Laminar Flow Analysis & Tests
In cooperation with one of our partner companies (Stamixco AG), we integrate CFD simulation and experimental tests into the development and assessment process of Stamixco's in-house laminar static mixing systems. Stamixco designs and manufactures a wide variety of static mixers for the continuous processing of substances in the laminar flow regime such as polymer melts (www.stamixco.com).
The velocity and pressure fields of highly viscous laminar flows in a static mixer can be predicted with high accuracy using a standard, cell based CFD solver. However, the prediction of mixing quality is more challenging. Since molecular diffusion in a laminar flow is a very slow process, sharp concentration gradients remain present throughout the mixer. With the aim of resolving these gradients accurately, we developed a customized CFD scheme based on particle tracking.
Based on our know-how and experience in the development of laminar static mixers by means of CFD simulation, we offer the following simulation services:
Simulation of pressure and velocity fields of flow components with similar rheological properties (Newtonian and non-Newtonian fluids)
Visualization of mixing quality
A high reliability is only achieved by complementing and validating a simulation with experimental tests. We offer the following laminar flow testing services:
Visualization of mixing quality with epoxy cuts
Visualization of mixing quality of two-component adhesives
Determination of pressure drop (CFD simulation)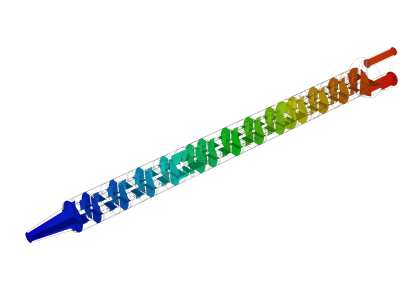 Visualization of mixing quality (CFD simulation)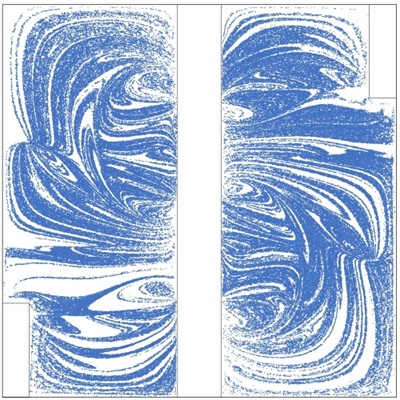 Visualization of mixing quality of 2K adhesives (test)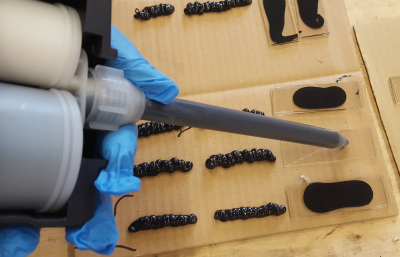 Flow analysis (CFD simulation)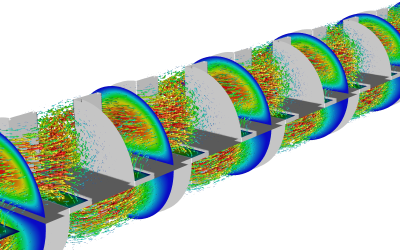 Visualization of mixing quality (epoxy cuts)