Physical Flow Models
Experimental flow models allow the assessment of flow-optimized geometries or entire systems. In combination with CFD (Computational Fluid Dynamics), the flow model is a reliable tool to validate results or to determine input data for a CFD analysis. Especially for the investigation and optimization of dust or ash flows resulting from combustion processes, the flow model is still the most reliable tool. Flowtech has gained vast experience during almost 20 years in building and analyzing physical flow models.
Examples:
SCR DeNOx systems (catalytic reactors)
electrostatic precipitators (ESP)
Our physical flow models are built in a suitable size scaled from 1:18 to 1:4. The duct walls and internals are produced from steel sheet metal. The visualization of the flow is ensured by installing acrylic glass windows only at flow-relevant points with the aim of reducing the negative effect of static loading to a minimum. Flow-related installations such as "popcorn-screens", baffles, flow rectifiers, static mixers, among others, are usually moveable to ensure a re-positioning during flow optimization.
The characteristics of the flow are visualized by injecting smoke or fog. Velocity, pressure and tracer gas distributions are recorded with grid measurements. Customized dust mixtures are added to detect potential particle accumulation areas ("popcorn-particles", dust or ashes) in the system. All results are graphically visualized to facilitate comparability with the CFD results.
Flow model of a high dust SCR unit (scale 1:12)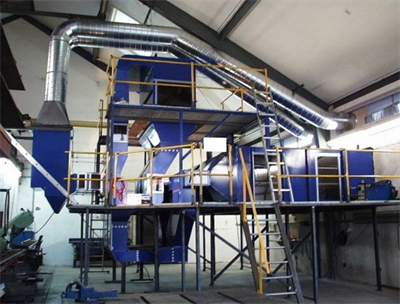 Tracer gas injection (tracer concentration test)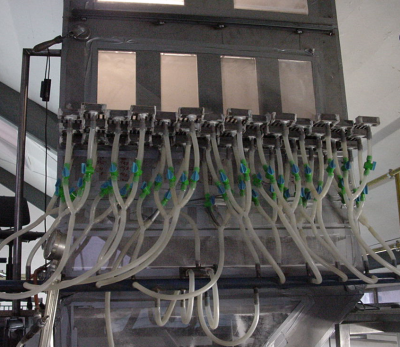 Hoppers and vanes inside flow model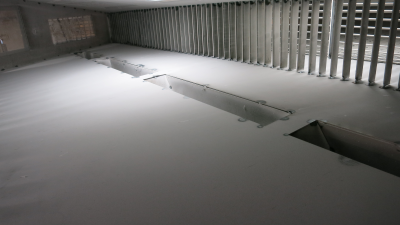 Ammonia injection grid and static mixer inside flow model
Dust deposition test inside flow model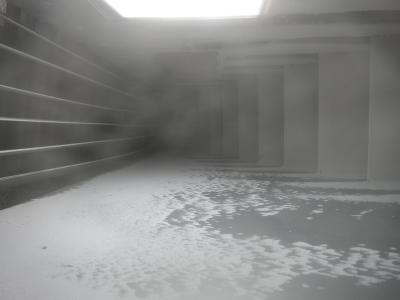 Flow visualization with wool threads (catalyst reactor box model)